You've gotten directions with Google Maps more times than you can count, and you might have even made an attempt at becoming the "mayor" of your favorite coffee shop on FourSquare. But, when you were finding your way or checking in, did you realize you were using HTML5 geolocation?
Geolocation is an API proposed by the World Wide Web Consortium in 2008 and now standard in mobile devices and browsers that support HTML5. With the HTML5 geolocation standard, a web or mobile app just needs a little JavaScript to use the WiFi, Bluetooth, RFID or GPS signal from your computer or phone to figure out where you are.
Of course that's great for navigating around a new city or finding restaurant recommendations, but what else can you do with geolocation? Here are five apps that, once you give them permission, do some cool things with geolocation.
Glympse
Glympse lets you share your location with whom you want, when you want and for how long you want. And the person you're sharing with doesn't even need the Glympse app to see where you are. If you share a special URL with your friends, they can track your location in real time. Super handy for letting your friends know exactly when you'll be at their place without having to call while you're driving and even handier if you can get your mother-in-law to use it so you have time for a quick clean-up before she's knocking at your door!
Banjo
Banjo calls itself "The Live Internet." This app puts its users' social media posts on a map so you can see what's happening anywhere in the world right now. It's a fun way to virtually get the vibe of sporting events and concerts, and it's a fascinating way to follow breaking news with updates from the people actually experiencing it.
Field Trip
Field Trip is your virtual tour guide for local history, restaurants, stores, music and unique places. You choose the categories you're interested in and the frequency of alerts, and Field Trip does the rest. It pulls information from a wide range of experts, publications and databases and then lets you know when you're near a "worthy place" so you can read or hear more about it.
Walk for a Dog
Walk for a Dog is a "triple threat." It encourages you to get exercise, spend time with your pet, and support an animal shelter of your choice. Just press start each time you head out with your furry friend, and the app will keep track of your walks. Then, a donation (usually around 25 cents per mile) for the walks you've logged will be made to the shelter. No dog? No worries! You can walk without one and still support your favorite rescued canine.
SeeClickFix
SeeClickFix helps you improve your city or town with just a few taps. When you see something in your neighborhood like an unrepaired pothole or burnt-out street light, take a photo, write a quick description and submit its location to the app. SeeClickfix then notifies the government organization responsible so it can be taken care of it. And with 75% of cases reportedly resolved, you can feel confident that you're caring for your community.
BONUS! Rather hide than seek?
Cloak – Social Sense
Even if you agree that geolocation is cool, we all have those "I just want to be alone" moments. Next time you do, you can pull up the Cloak app to ensure your alone time. Calling itself "the antisocial network", Cloak goes through your Instagram, Foursquare, Facebook and Twitter feeds and shows you where your friends are so you can avoid running into them. But beware! Cloak doesn't conceal your location. So, if you really want to go solo, you'll have to resist the urge to inform everyone on social media how much you're loving your new geolocation apps!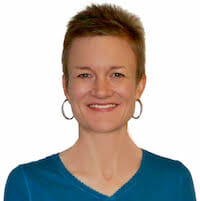 Kelli Smith
Kelli is our Operations Manager here at Skillcrush. Plus, she's an early alum of Skillcrush 101 who made her career change into tech in her mid-40's! Kelli started with us as our Customer Support Manager and has also taken advanced web development classes and been an organizer in the Helsinki Rails Girls chapter.

In addition to helping the Skillcrush team and our wonderful students, Kelli loves podcasts (especially ones about tech, of course!), Corgis, emojis, and, most of all, catalan-style line dancing – as a true Texan living in Finland would!